---
Wales Ineos 4×4 vehicle plant 'suspended' in Bridgend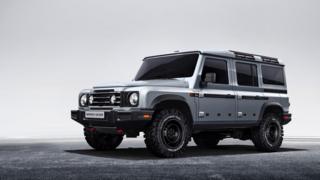 Plans to build a new 4×4 vehicle plant in Wales have been put on hold by the firm Ineos.
The company said it follows talks with Mercedes-Benz over the acquiring of their Hambach site in Moselle, France.
The Wales plant would have been built next to the current Ford engine plant at Bridgend, which is to shut this autumn with the loss of 1,700 jobs.
Economy Minister Ken Skates said it would be "a real blow if Ineos reneged on its very public commitment".
"I have told the CEO that abandoning Bridgend at this late stage, after so much effort and money has been invested in preparing the site, would be a terrible decision for Wales and the UK," said Mr Skates.
"We have impressed on the company in no uncertain terms the importance of honouring its commitment to Wales and to deliver on its promise to build a British icon here in Britain."
The new factory was expected to create about 200 jobs initially to make the new all-terrain Grenadier vehicle.
It was hoped it could employ up to 500 people in the longer-term, and work to clear ground at the site had already begun.
Work on another site in Portugal has also been suspended.
"Some new options, such as this one with the plant in Hambach, have opened up that were simply not available to us previously," said Dirk Heilmann, the chief executive of Ineos Automotive.
"We are therefore having another look – and reviewing whether the addition of two new manufacturing facilities is the right thing to do in the current environment."
Mercedes-Benz put the Daimler car assembly plant in France up for sale last week.
It was dedicated to its smart car, called the EQ fortwo, which has been recently developed and is a similar size to the Grenadier.
Ineos said it made the location "ideally suited" to the Grenadier.
The company said Covid-19 had also had an impact on its building schedule for the new plants.
"Safety is of course paramount, but we also have an obligation to do what is right for the business – and so need to assess these new opportunities in order to maintain or improve on our timelines," said the Ineos Automotive chief.
What do people in Bridgend think?
"It's a shame because there's so many people out of work anyway," said Elizabeth Davies. "It's sad because we're going to be in a bit of a mess."
Steve Hone said he was "disappointed" at Ineos's decision as its plans "would have been good for the area" with Ford closing its factory.
"We've seen a lot of places shut over the last 20 years with Sony closing and other factories on the estate, and Ford is the last big employer so Ineos was a chance for the future."
Leanne Rowlands said the town was "struggling".
"The shops are half empty, let alone the manufacturing businesses," she said. "It's very sad."
Bridgend Member of the Senedd Carwyn Jones, the former first minister of Wales, said: "I don't accept for one minute that this had anything to do with covid.
"This is a decision that they don't want to invest in the UK – there's nothing more to it in my opinion," he told BBC Radio Cymru.
"I've heard a lot of things in politics over the years, but I've never seen this before, when a company say that they want to support the UK, but once the money's on the table, that's not what they do.
"I'm incredibly angry. There was an agreement and they've gone back on that."
This is a huge blow for Bridgend.
It had been hoped that some of the workers losing their jobs at the nearby Ford plant could find work at Ineos.
A lot of work also has gone into preparing suppliers to ensure the Welsh automotive industry benefited.
The site is still being prepared for what would have been the Ineos plant.
Work is continuing and there is some hope that it could be put to good use by attracting other companies to Bridgend.
Even before this announcement there was interest from other businesses in moving to the area but those talks are at an early stage.
It is unclear how much demand there has been for the Ineos Grenadier.
Bridgend MP James Wallis said he was "disappointed" by the announcement, and said it was a "massive blow" to the local economy and the economy of Wales.
"I have already spoken to the Wales Office and I am seeking urgent clarification about the implications of the future plant in Bridgend from Ineos and what more can be done from both governments at either end of the M4," he said.
"We need to do all we can to get the work back on track and secure this investment for workers and families in Bridgend."
The leader of Bridgend council Huw David said the decision was "disappointing".
"The need for fresh investment into Bridgend county borough is now greater than ever, and we require urgent clarity not only over what Ineos intends to do, but on what action the Welsh government and the UK government will be taking in response to this latest development," he added.
Plaid Cymru economy spokeswoman Helen Mary Jones MS said: "The fact that a site on mainland Europe appears to be favoured over a site in Wales may be a sign of what we risk, post-Brexit.
"It is very important that Welsh government seeks to understand the full picture from Ineos, engage with them and try to change their minds."
Ineos said it expected to complete its review of building options "in the next few weeks".