---
Ryanair still flying to Spain despite quarantine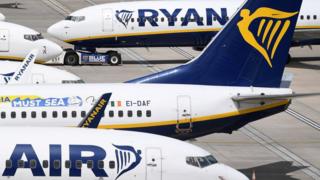 Ryanair has said it will continue its flights in and out of Spain as normal, despite the UK government's decision to impose a 14-day quarantine on travellers arriving from the country.
Neil Sorahan, Ryanair's chief financial officer, told the BBC: "The schedules remain in place."
The travel industry has been plunged into confusion by the quarantine rule, which was announced over the weekend.
Airlines have called it a "big blow", throwing travel plans into chaos.
But speaking on the BBC's Today programme, Mr Sorahan said: "As things stand, the market remains open, the schedules remain in place and we continue to operate in and out of Spain as normal."
He added, however, that Ryanair was keeping its entire operation "under consideration" as it builds back its route network post-lockdown.
'Biggest fear'
Earlier, Ryanair revealed that it had fallen into loss in the first three months of the financial year after what it called the most challenging period in its history.
With more than 99% of its fleet grounded because of the pandemic, the airline reported a loss of €185m (£169m) over the April-to-June period, compared with a profit of €243m a year earlier.
Ryanair said it expected to clear more than 90% of refunds for cancelled flights by the end of July.
The airline said it was impossible to predict how long the coronavirus pandemic would persist.
"A second wave of Covid-19 cases across Europe in late autumn (when the annual flu season commences) is our biggest fear right now," it added.
Airlines have been struggling because of global travel restrictions aimed at halting the spread of the coronavirus.
In May, Ryanair announced it was set to cut 3,000 jobs across Europe.
However, earlier this month, the company revealed that it had cut a deal with the Unite union, including temporary pay cuts, so that UK cabin crew jobs would be safeguarded.
The airline later said it was shutting its base at Frankfurt Hahn airport after German pilots voted to reject pay cuts.
Rivals slated
In its latest results statement, Ryanair repeated its criticism of rival airlines for receiving what it called "illegal state aid" to stay in business.
"Many other airlines are cutting capacity, with the result that air travel in Europe is likely to be depressed for at least the next two or three years," it added.
"This will create opportunities for Ryanair… to grow its network and expand its fleet, to take advantage of lower airport and aircraft cost opportunities that will inevitably arise."
The airline said the challenge of Brexit, and in particular a no-deal Brexit, remained high.
It said it hoped that the UK and EU would agree a trade deal for air travel that would allow the free movement of people and the deregulated airline market between the UK and Ireland to continue.
"As an EU airline, the Ryanair Group should be less affected by a no-deal Brexit than UK registered airlines. We still, however, expect adverse trading consequences to arise," the airline said.
"Ryanair has put the necessary measures in place to ensure that the group remains majority EU owned, including restricting voting rights of non-EU shareholders, in the event of a 'hard Brexit'".
Ryanair said it remained a committed supporter of the "game-changer" Boeing 737 Max plane, which was grounded last year after two crashes killed all 346 people on the flights.
It was due to take delivery of its first 737 Max planes more than a year ago and still hopes to do so before the end of 2020.
The US aviation regulator has started formal test flights for the troubled plane after Boeing overhauled its flight control system.