---
Rules 'should not be watered down' for Aramco listing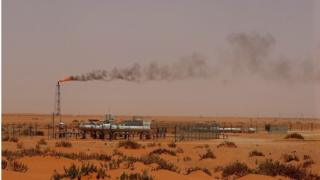 Regulators should not "water down" the rules to allow the world's largest oil company to list in London, the Institute of Directors (IoD) has said.
It follows reports Saudi Aramco plans to list 5% of its shares in London or on another Western stock exchange.
UK rules state more than 25% of shares should be listed to stop a single shareholder having too much dominance.
But proposals by the Financial Conduct Authority (FCA) put forward in January could allow for exceptions.
The regulator proposed waiving a number of requirements for sovereign-owned companies, including the need to provide independent shareholders with their own separate vote on the appointment of independent directors.
'Protections in place'
Steve Martin, director general of the IOD, questioned whether the FCA's plans were being made for "short term gain".
According to reports, Saudi Aramco could be valued at $2tn (£1.5tn) when it lists – a huge price tag that would also generate hundreds of millions of dollars in fees for investment bankers, lawyers and other professional firms involved in stock market flotations.
Mr Martin told Radio 4's Today programme: "The UK has the highest standard of corporate governance and shareholders know that when they invest in a company, certain protections will be in place, especially to protect minority shareholders.
"We would not want to see those rules removed without good reason."
He added: "It's in the interest of companies like Saudi Aramco to adhere to our requirements because it demonstrates their commitment to good corporate governance."
'Highly inappropriate'
In January, the FCA said it wanted to create a new category of share listing, aimed at state-controlled companies such as Aramco.
It said these firms "tend to be different from private sector individuals or entities in both their motivations and their nature".
In June, pension fund Royal London Asset Management also criticised the proposals, saying an Aramco listing should not go ahead if it weakened protections.
Ashley Hamilton Claxton, corporate governance manager at Royal London, said at the time: "It would be highly inappropriate for us to be bending listing rules and bending benchmark rules to accommodate this one large company."