---
Game of Thrones script 'stolen in HBO hack'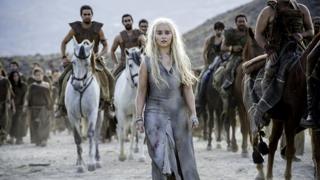 A group of hackers claims to have stolen the script for a forthcoming Game of Thrones episode and other data in a breach at entertainment firm HBO.
The group says it has 1.5 terabytes of the company's data and has posted episodes of Ballers and Room 104 online.
It added that more material would be released "soon".
HBO confirmed it had experienced a "cyber incident" in a statement.
In an email published by Entertainment Weekly, the hackers appeared to offer more details in exchange for favourable coverage.
"Hi to all mankind," they wrote. "The greatest leak of cyber space era is happening."
They encouraged recipients to download the material and added: "Whoever spreads well, we will have an interview with him."
Reports have said the allegedly stolen Game of Thrones script appears to be from the fourth episode of season seven, which is currently being broadcast.
The BBC has not been able to independently verify that the hackers possess the material they claim to have stolen.
HBO confirmed that a "cyber incident" had resulted in the compromise of information.
"We immediately began investigating the incident and are working with law enforcement and outside cybersecurity firms," the firm added.
"Data protection is a top priority at HBO, and we take seriously our responsibility to protect the data we hold."
The intrusion was "obviously disruptive, unsettling, and disturbing for all of us," said chairman and chief executive Richard Plepler in an email to HBO employees.