---
Direct Line leads FTSE 100 higher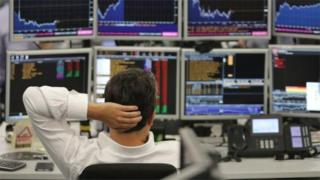 Direct Line led the market higher as investors welcomed the insurer's half-year results.
Shares in the company jumped 7% after it reported a 9.5% increase in operating profits to £354.2m.
Direct Line was the biggest riser on the FTSE 100, with the index up 37.50 points at 7,409.50.
Rolls-Royce was another big riser, with its shares up nearly 6% after a big rise in engine deliveries helped it swing back to profit.
The aerospace giant said large engine deliveries were up by more than a quarter, savings were ahead of schedule and it was also on target to hit profit forecasts.
The company reported a pre-tax profit of £1.94bn for the first half of the year compared with a £2.15bn loss a year earlier.
Shares in British Gas owner Centrica were up 3% as the company announced it was raising household electricity prices by 12.5%.
In the currency markets, the pound slipped 0.1% against the dollar to $1.3206 but rose 0.2% against the euro to 1.1182 euros.