---
Coronavirus: Virgin Atlantic finalises £1.2bn rescue deal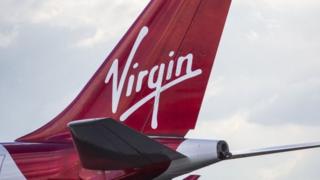 Troubled airline Virgin Atlantic has finalised a rescue deal worth £1.2bn.
The package includes support from its main shareholder, Virgin Group, and loans from outside investors.
It also includes deferring hundreds of millions of pounds owed both to Virgin Group and to fellow shareholder Delta Air Lines.
Virgin Atlantic had initially hoped to obtain emergency funding from the government, but ministers said any subsidies would be a last resort.
The funding comes largely from existing shareholders and a new investor, hedge fund Davidson Kempner Capital Management.
The company said the plan paved the way for the airline to rebuild its balance sheet and return to profitability in 2022.
The Covid-19 outbreak plunged Virgin Atlantic into an acute crisis.
Like other airlines, it was forced to ground most of its fleet for months and is not due to resume services until next week.
The company had initially hoped the government would step in, but ministers made it clear taxpayers' money could only be considered once all other options had been exhausted.
Under the package announced on Tuesday, the airline will receive loans worth £170m from Davidson Kempner, while Virgin Group, its biggest shareholder, will put in a further £200m.
Both Virgin Group and its fellow shareholder Delta Air Lines will defer payment of money owed to them by the airline worth £400m. Other creditors are expected to defer payments worth £450m.
The plan will still require formal approval from Virgin Atlantic's creditors under a court-sanctioned process.
The airline said more than 3,500 jobs had been lost as part of a cost-cutting drive that included the closure of its base at London Gatwick.
Virgin Atlantic calls this a "solvent recapitalisation". But the question is, will it be enough to secure the company's long-term future?
There is some new money here – an extra £200m in cash from the Virgin Group and loans worth £170m from Davidson Kempner. But a large part of the package is made up of deferring or waiving existing liabilities.
This was probably the best the company could do in the circumstances, after the government made it clear targeted state aid would only be considered as a last resort, after private-sector options had been exhausted.
But it doesn't seem to give the company much of a war chest to absorb future shocks. It is due to resume flights next week – and managers will be desperate for demand to pick up, and quickly.
Virgin Atlantic has already taken drastic action to cut costs, shedding more than 3,500 staff and closing its base at London Gatwick. There's no doubt it will be a much leaner operation in future.
This deal does at least keep the airline flying, but navigating its way through the stormy skies facing the industry for the foreseeable future will still be a huge challenge.
Call Now Button