---
Coronavirus: UK in talks on quarantine exemption for Balearic and Canary Islands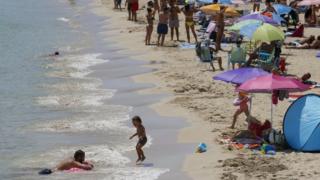 Talks are under way with Spain about easing quarantine rules for the Balearic and Canary Islands, a UK government source has confirmed.
The potential move would mean people arriving in the UK from the islands would not have to self-isolate for 14 days after rules changed this weekend.
The travel industry is hoping ministers make a decision by Friday.
A government source said there will not be an immediate decision, while No 10 said "no travel is risk free".
One travel industry source said the government had told them it wanted to study more data from Spain's islands before making a decision.
The rate of infection in Spain is 35.1 cases per 100,000 people, while the UK is at 14.7, according to the latest figures from the European Centre for Disease Prevention and Control.
Data up to 19 July suggested there were lower rates of infection in the Balearic and Canary Islands than in mainland Spain.
Meanwhile, Cabinet Office Minister Michael Gove said he cancelled a holiday to the Balearics after the change in quarantine rules was announced on Saturday.
Among the thousands of British holidaymakers affected was Transport Secretary Grant Shapps, who flew to Spain on Saturday despite knowing a decision on the policy was due.
James Middleton, a receptionist from Weston-super-Mare, is due to return home from his holiday in Tenerife on Tuesday.
His employer is looking at what it can do to help, but the 49-year-old said he now risks going without pay in order to observe the quarantine rule.
"I will have credit card bills to pay at the end of the month and with no income for two weeks, I will not be able to pay them and will invite interest on them," Mr Middleton said.
He said he has "no problem" with the quarantine rule as the government "has to act on the information" it has – but he thinks it should "support" those who are affected.
"They have said before no one should suffer as a result of following these rules so they should stand by it. The minimum support on offer should be sick leave pay," he said.
Concern has grown among employers about what to do if their staff cannot immediately return to work after holidaying in Spain.
Debbie Pearson runs small catering businesses in the West Midlands. Staff at her business that caters for weddings and events are furloughed, but staff at two firms that supply meals for the elderly are still working.
Ms Pearson said she will not be able to claim statutory sick pay for workers who must isolate for two weeks upon returning for holiday for either of those businesses.
"If I have to pay to pay them, I would pay them," she said.
Because one of her businesses only has three staff, it will also pile pressure on the remaining two staff if they have to cover the extra work for two more weeks.
"We pride ourselves on being a good employer," she said. "If somebody had been abroad and told to isolate, I'd want to make sure they weren't asked to work."
Cancellations
Holiday companies have responded to the imposition of the quarantine for people arriving from Spain.
EasyJet said it would operate its full schedule of flights to Spain, but it is cancelling holidays to all Spanish destinations for the next few weeks. It said it only offered holidays where there was no known requirement to self-isolate on arrival or return.
Ryanair said its schedules "remain in place" and it will continue flights in and out of Spain as normal, as did airline and holiday firm Jet2.
But package holiday firm Tui cancelled all mainland Spanish holidays until 9 August.
It said customers due to travel to all areas of Spain between 27 July and 9 August would be able to cancel or amend holidays and receive a full refund or the option to rebook their holiday with an incentive.
However, there will be uncertainty for those with holidays due to depart from 10 August as the company said it will be update passengers with future bookings on 31 July.
The UK Foreign Office currently advises against "all but essential travel" to countries without air bridge agreements in place.
Blanket measures
Tui has urged the UK government not to slap blanket quarantines on whole countries.
Andrew Flintham, managing director of TUI UK and Ireland, said the government should have a "regionalised" policy.
That would mean only travellers returning from coronavirus hotspots should be forced to quarantine.
The UK imposed the restriction over the weekend after a spike in infections in some Spanish regions, including Catalonia, where Barcelona is located, and Aragon.
The French government has been telling its nationals to stay away from Catalonia, while Norway has imposed a new 10-day quarantine on all travellers arriving from Spain.
Mr Flintham told the BBC that the government was "rightly nervous" about people's ability to move "relatively unchecked" around countries which had a spike of cases in certain areas.
However, he said most holidaymakers stayed in one place when they got there and should be safe if they were not in high-risk areas.
"They do not go travelling around wider Spain and then they come home again," he said.
A further seven people with coronavirus have died across all settings in the UK, according to latest government figures – bringing the UK's death toll to 45,759.
The government also said in the 24-hour period up to 09:00 BST on Monday, there had been a further 685 lab-confirmed cases. The UK's total is 300,111.