---
British American Tobacco investigated by Serious Fraud Office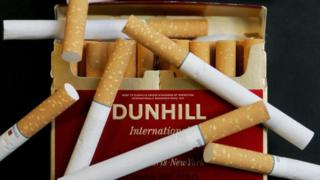 UK tobacco firm British American Tobacco (BAT) says it is under official investigation by the Serious Fraud Office (SFO) over allegations it paid bribes in East Africa.
The allegations were first made in a BBC Panorama programme in 2015.
BAT said that it had been investigating the claims through external legal advisers and it had been co-operating with the SFO.
The firm said it also intended to co-operate with this formal investigation.
The Panorama programme alleged that BAT, whose brands include Dunhill and Pall Mall cigarettes, had made illegal payments to politicians and civil servants in East Africa.
The BBC was shown hundreds of secret documents purporting to show backhanders to various officials.
BAT said in a statement: "As previously announced, we are investigating, through external legal advisers, allegations of misconduct.
"We have been co-operating with the Serious Fraud Office ("SFO") and British American Tobacco ("BAT") has been informed that the SFO has now opened a formal investigation. BAT intends to co-operate with that investigation."
Call Now Button