---
Brexit: Ads highlight changes for UK holidaymakers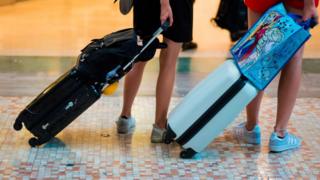 Potential changes to travel insurance and passport rules for UK holidaymakers after Brexit are being highlighted in a series of adverts starting this week.
The government's "UK's new start: let's get going" campaign will be run on TV, radio, online, print and billboards.
There will be advice for Britons in the EU and EU citizens living in the UK, as well as UK and EU businesses, on how to prepare for the end of the transition period on 31 December.
People will also receive text messages.
On Monday the government also published a model setting out how the border with the EU would operate after the transition.
Ministers say most of the actions that citizens and businesses are being asked to take will need to be completed regardless of the ongoing negotiations between the UK and EU on the post-Brexit trade arrangements.
That is because the UK will no longer be part of the single market and current customs union at the end of the year, no matter what arrangements are put in place.
The government says the actions people need to take after 1 January 2021 will vary depending on individual circumstances but the adverts will cover advice suggesting that:
Britons intending to travel to Europe should ensure their passports are valid for a specific period, they have comprehensive travel insurance, and they check their mobile phone roaming policy
people travelling to Europe from the UK with pets should contact a vet at least four months before their trip
businesses planning to export or import to or from the EU should ensure they have registered with the relevant customs authority
The adverts will advise people to "Check, Change, Go" and recommend using a checker tool on the government's website.
Will the EHIC still be valid after Brexit?
We've already left the EU but we've been in the departure lounge, the transition period, when the status quo is pretty much held.
That is going to run out at the end of December, when we will leave the single market and the customs union.
That means big changes for business and a lot of them are frustrated that it isn't clear enough what that new world would look like.
There are also likely changes for all of us too. Your mobile phone bills might be pretty different next year if you escape somewhere in Europe on holiday, and message your friends from the beach.
The EU health card that has given people insurance wouldn't apply anymore, so we need to make different arrangements about that.
There are particular tensions for Northern Ireland, which of course will be part of the UK customs territory, but will still follow some EU customs law and regulation on goods to avoid a hard border.
There could be real disruption there if laws on the different sides of the channel diverged over the years.
And there is an overall concern in government too, as we saw from a leaked letter from the International Trade Secretary Liz Truss, that the government just isn't quite ready for all of this, let alone the population and businesses who will have to grapple with the changes on the ground.
Cabinet Office Minister Michael Gove said the end of the transition period will "bring changes and significant opportunities for which we all need to prepare".
"While we have already made great progress in getting ready for this moment, there are actions that businesses and citizens must take now to ensure we are ready to hit the ground running as a fully independent United Kingdom."
However, the Cabinet Office says some of the UK-wide guidance will not apply to trade between Northern Ireland and the EU until the negotiations have concluded. A special trade arrangement involving Northern Ireland was agreed as part of the Brexit transition deal.
The campaign comes after the government announced a £705m funding package to help manage Britain's borders after Brexit – measures Labour said were "too little, too late" and showed that ministers were unprepared.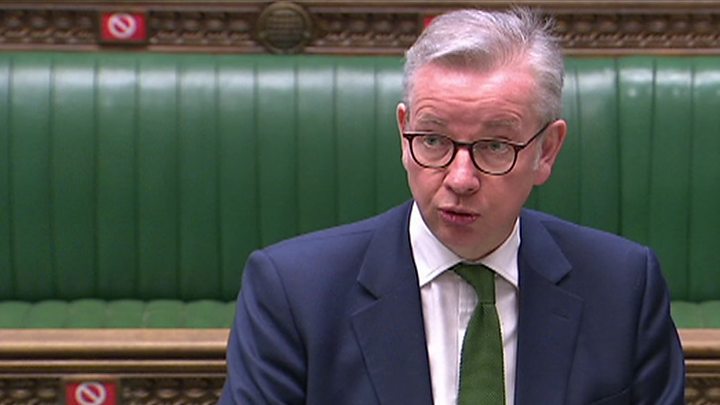 In a statement to the House of Commons, Mr Gove set out details of a new border operating model that would be phased in between January and July 2021.
From January, traders importing standard goods, such as clothes and electronics, will need to prepare for basic customs requirements.
By July, traders moving any goods will have to make full customs declarations at the point of importation and pay relevant tariffs.
HMRC estimates that the new system will see a 215 million rise in the number of customs declarations.
It is understood that the government expects to build 10 to 12 inland border posts, in order to check traders are complying with customs rules.
Brexit: What do businesses need to prepare for?
Mr Gove told MPs that the model would help the UK on its way to having "the world's most effective border by 2025".
But Labour's Rachel Reeves accused the government of "wrapping business in red tape and sending them to a supersize lorry park in Dover".
"The best way to help all businesses to prepare is to agree a deal with EU on the terms we were told to expect – that means no fees, charges, tariffs or quantitative restrictions across all sectors.
"It does not mean customs, physical checks and export declarations."