---
Apple sales boosted by services growth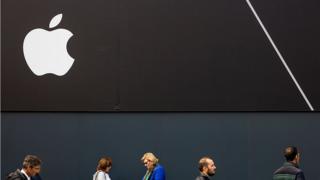 Technology giant Apple, best known for its iPhones and computers, said newer lines of business such as Apple Pay had helped to drive growth in its third quarter.
Apple's services unit had sales of nearly $7.3bn during the three months to the end of June, a rise of 22% higher on the same period last year.
The growth helped lift the firm's total sales in the period by 7% to $45.4bn.
The firm's shares spiked more than 5% in after-hours trade.
"Apple's Services business continues to be the shining light," said Geoff Blaber of CCS Insight.
"Not only is $7.3 billion in revenue hugely significant in its own right, it underlines the ecosystem advantage it has over its competitors outside of China."
Pre-tax profits for the quarter were $11.308bn, up from $10.496bn last year.
Apple still makes the bulk of its revenue from iPhones, which had experienced an unexpected sales decline earlier this year.
This quarter, the number of units sold increased by a solid 2% year-on-year, lifting revenue 3% revenue to $24.8bn.
Other divisions also showed growth.
Apple, which introduced a new iPad, said the number of iPads sold climbed 28% year-on-year, while revenues from the product increased 2%.
Revenue from other products, such as the Apple Watch, Apple TV and Beats headphones, also jumped 23% year-on-year.